Over 100 UK Parliamentarians from all major political parties have written to the Foreign Secretary Rt. Hon James Cleverly MP on 3 July 2023, laying out practical steps Foreign Office can take to help free imprisoned British-Egyptian writer,  Alaa Abd el-Fattah, including for the UK "to take the lead on a joint statement on Egypt at the UN Human Rights Council, and to update the UK's travel advice for the country" stating that "British leadership is necessary and critical". 
On 3 August 2023, a response was received from Lord Tariq Ahmad of Wimbledon, the Minister of State for the Middle East and North Africa. The letter can be read in full below. Caabu will continue to press the British government to give greater priority to this case and demand that Ala'a Abd el Fattah is released 
Subject: British national Alaa Abd el-Fattah and UK leadership role at the UN Human Rights Council
Dear Foreign Secretary,
We are writing to express our concern at the lack of progress on the case of Alaa Abd el-Fattah, six months on from the Prime Minister's meeting with President Sisi in Sharm el-Sheikh. As a result, we are asking you to take the lead on a joint statement on Egypt at the UN Human Rights Council, and to update the UK's travel advice for the country.
You are of course aware that while the two leaders were meeting, Alaa was perilously close to death, collapsing just days later. Since he chose to end his hunger and water strike, he has remained imprisoned in his cell and has still not received a single visit from a consular official, despite repeated commitments to Alaa's family from British ministers and officials that they are doing everything they can.
Private lobbying of the Egyptian government, even at the highest levels, is yet to deliver results. This calls for fresh approaches that draw on traditional British strengths of international diplomacy. The Human Rights Council presents a key opportunity for the UK to lead on a joint statement. The last collective expression of concern at the Council was in March 2021. In the months following this statement, the Egyptian authorities lifted the state of emergency and launched a new human rights strategy. While these largely cosmetic measures did not ultimately improve the dire human rights situation, they nonetheless indicate the attention the authorities pay to events at the Council.
British leadership is necessary and critical. As a founding member of the Human Rights Council, which pledged when elected to "continue to hold to account all those responsible for the worst violations and abuses", the UK has the assets and credibility to deliver a well-supported joint statement. We have no doubt that your partners and allies in the Council and beyond would stand ready to support such important efforts.
We also urge you, as a matter of priority, to update the FCDO's travel advice to align with US travel advice on the situation for detained nationals in Egypt. The US government warns that "U.S. citizenship does not provide protection from detention or arrest by Egyptian authorities, and individuals detained may be subjected to prolonged interrogations and extended detention." It also states that, "the Egyptian authorities do not automatically notify the U.S. Embassy when a dual national is detained, or provide information about their alleged crime".
It is a matter of serious concern that British nationals do not have clear advice to rely on in this matter, which is vital for their personal security. The fact that the UK has been refused consular access to Alaa Abd el-Fattah suggests that the situation of British dual nationals is similar or even worse to that of Americans.
Yours sincerely, 
Rt Hon. Alistair Carmichael MP
Full list of signatories below.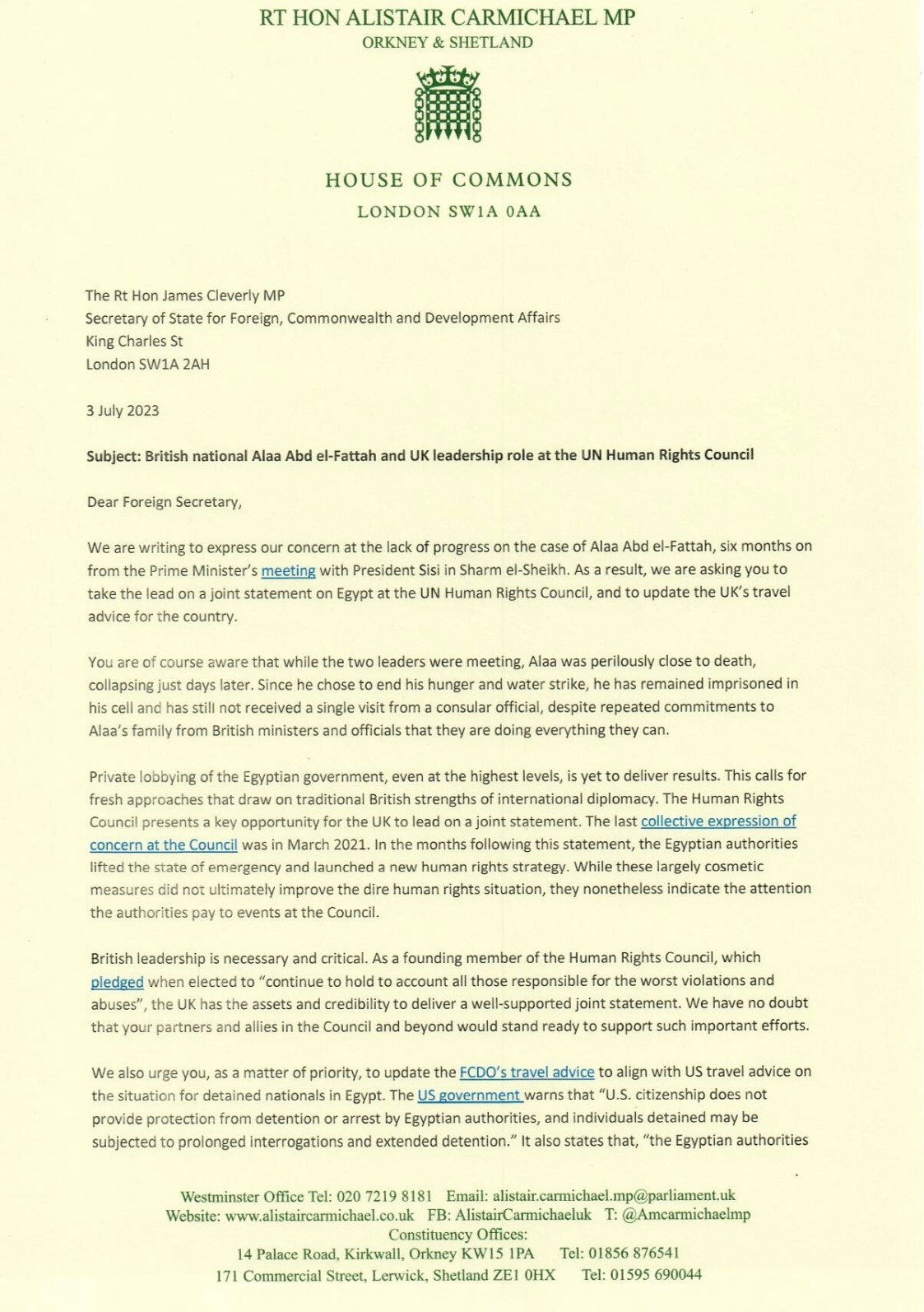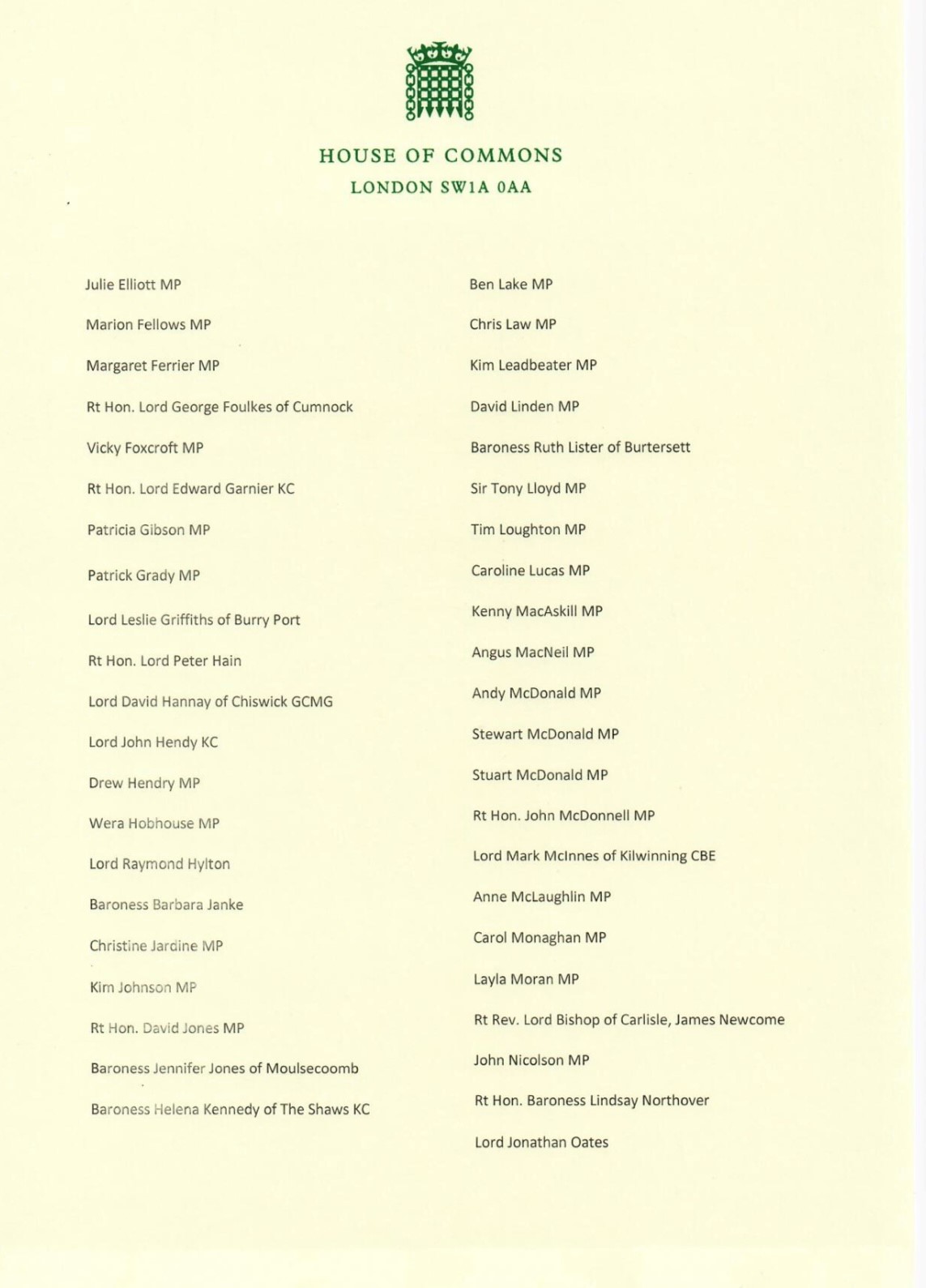 Rt Hon. Alistair Carmichael MP 
Rt Hon. Diane Abbott MP
Debbie Abrahams MP
Rushanara Ali MP
Lord David Alton of Liverpool
Baroness Joan Bakewell DBE
Hannah Bardell MP
Rt Hon. Hilary Benn MP
Baroness Natalie Bennett of Manor Castle
Rt Hon. Baroness Tessa Blackstone
Olivia Blake MP
Paul Blomfield MP
Crispin Blunt MP
Steven Bonnar MP
Sir Peter Bottomley MP
Rt Hon. Ben Bradshaw MP
Baroness Sal Brinton
Deirdre Brock MP
Alan Brown MP
Sir Chris Bryant MP
Richard Burgon MP
Dan Carden MP
Sarah Champion MP
Joanna Cherry MP
Rt Hon. Jeremy Corbyn MP
Wayne David MP
Martyn Day MP
Marsha De Cordova MP
Rt Hon. Lord Navnit Dholakia OBE DL
Martin Docherty-Hughes MP
Rt Hon. Baroness Frances D'Souza
Lord Alf Dubs
Rt Hon. Sir Iain Duncan Smith MP
Julie Elliott MP
Marion Fellows MP
Margaret Ferrier MP
Rt Hon. Lord George Foulkes of Cumnock
Vicky Foxcroft MP
Rt Hon. Lord Edward Garnier KC
Patricia Gibson MP
Patrick Grady MP
Lord Leslie Griffiths of Burry Port
Rt Hon. Lord Peter Hain
Lord David Hannay of Chiswick GCMG
Lord John Hendy KC
Drew Hendry MP
Wera Hobhouse MP
Lord Raymond Hylton
Baroness Barbara Janke
Christine Jardine MP
Kim Johnson MP
Rt Hon. David Jones MP
Baroness Jennifer Jones of Moulsecoomb
Baroness Helena Kennedy of The Shaws KC
Ben Lake MP
Chris Law MP
Kim Leadbeater MP
David Linden MP
Baroness Ruth Lister of Burtersett
Sir Tony Lloyd MP
Tim Loughton MP
Caroline Lucas MP
Kenny MacAskill MP
Angus MacNeil MP
Andy McDonald MP
Stewart McDonald MP
Stuart McDonald MP
Rt Hon. John McDonnell MP
Lord Mark McInnes of Kilwinning CBE
Anne McLaughlin MP
Carol Monaghan MP
Layla Moran MP
Rt Rev. Lord Bishop of Carlisle, James Newcome
John Nicolson MP
Rt Hon. Baroness Lindsay Northover
Lord Jonathan Oates
Brendan O'Hara MP
Baroness Nuala O'Loan DBE MRIA
Kate Osamor MP
Rt Hon. Lord Chris Patten of Barnes KG CH
Lord Jeremy Purvis of Tweed
Anum Qaisar MP
Lord Rupert Redesdale
Lord Simon Russell of Liverpool
The Earl of Sandwich
Tommy Sheppard MP
Rt Hon. Lord Nicholas Soames of Fletching
Zarah Sultana MP
Rt Hon. Sir Desmond Swayne MP
Sam Tarry MP
Alison Thewliss MP
Owen Thompson MP
Richard Thomson MP
Rt Hon. Sir Stephen Timms MP
Rt Hon. Valerie Vaz MP
Lord William Wallace of Saltaire
Rt Hon. Lord Norman Warner
Rt Hon. Baroness Sayeeda Warsi
Baroness Janet Whitaker
Dr. Philippa Whitford MP
Nadia Whittome MP
Munira Wilson MP
Mohammad Yasin MP
Letter received from Minister of State for the Middle East and North Africa, Lord Tariq Ahmad on 3 August 2023.