25 British Parliamentarians are signatories to an open letter published in the Israeli newspaper Haaretz, calling forcible transfer a war crime, and condemning Israel's plans to demolish and forcibly transfer the Palestinian Bedouin community of Khan al Ahmar.
The cross party group of parliamentary signatories include Caabu Chair, Rt Hon David Jones MP (Conservative), Caabu board members Rt Hon Alistair Carmichael MP (Liberal Democrat) and Paula Sherriff MP (Labour) and Caabu Patrons Lord Peter Hain (Labour), Lord David Steel of Aikwood (Liberal Democrat) and Baroness Sayeeda Warsi (Conservative). It also includes many parliamentarians who have been on Caabu delegations to Palestine. 
The imminent demolition and forcible transfer of the Khan al-Ahmar community, if carried out, will be a war crime. The responsibility for this war crime lies with top Israeli officials, including the prime minister and defense minister, as well as the High Court justices who recently enabled the commission of this crime. Khan al-Ahmar is but one pressing and extreme example of a much bigger Israeli strategy: for decades Israel has been implementing a policy designed to diminish Palestinian presence in certain areas of the West Bank by creating a coercive environment for the thousands of Palestinians living there; the demolition of an entire village would be a dramatic escalation of that policy.
Press releases about the letter can be read in English, Arabic and Hebrew.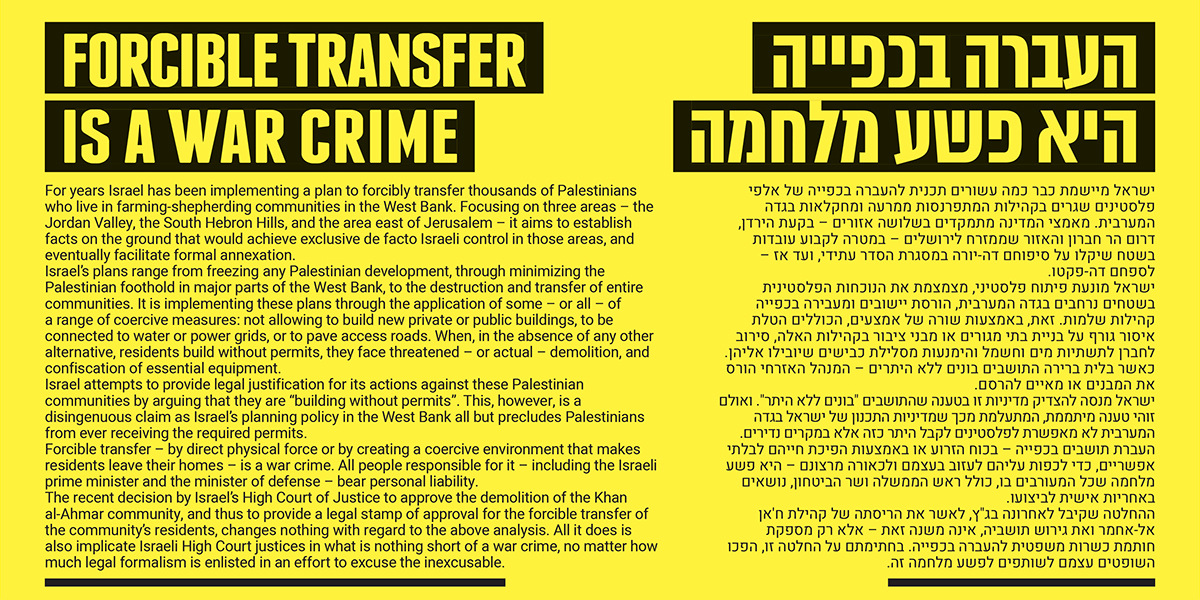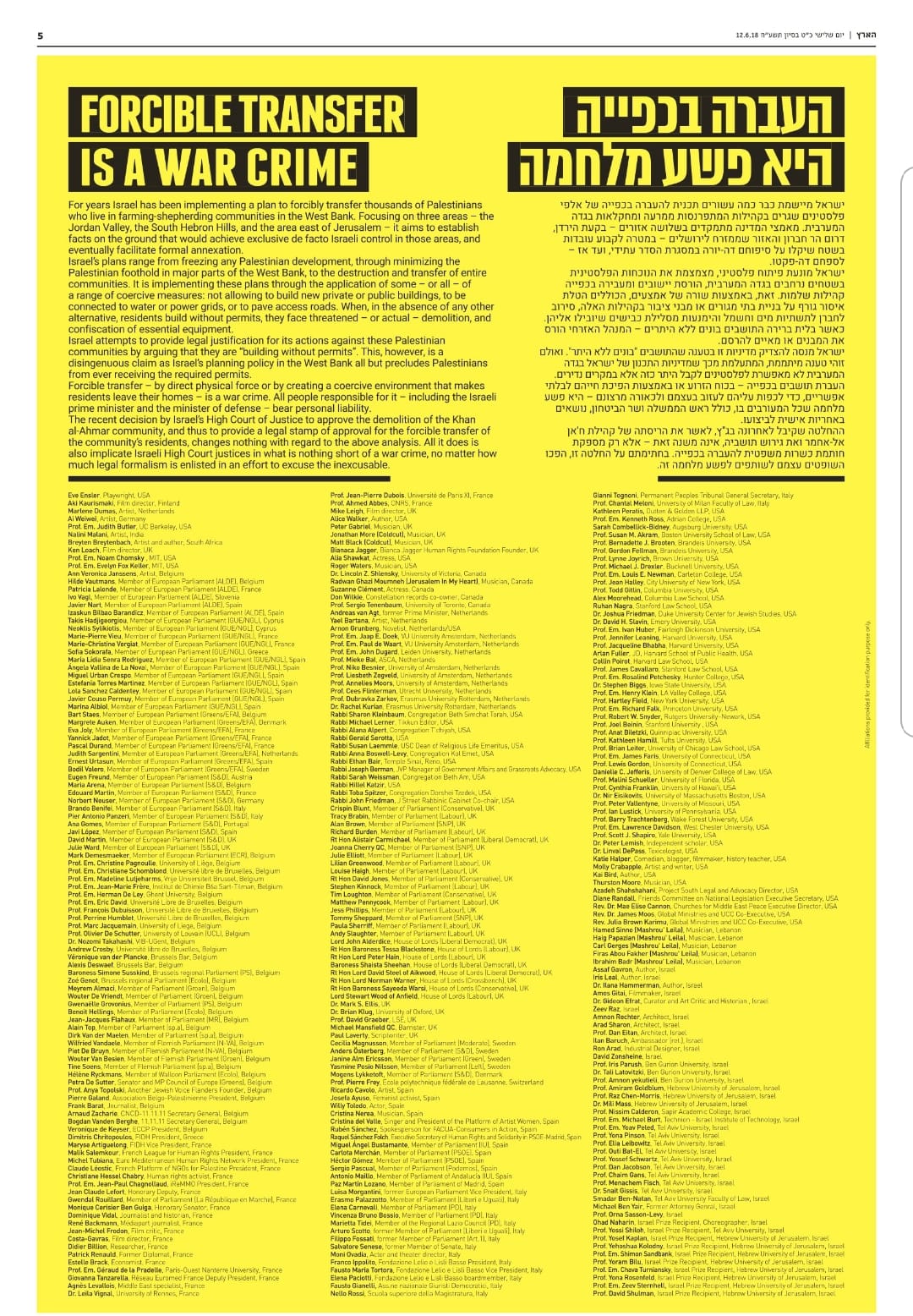 More information can be found on B'Tselem's campaign page.
The full list of UK parliamentarians who are signatories to the letter is as follows:
Crispin Blunt, Member of Parliament (Conservative)
Tracy Brabin, Member of Parliament (Labour)
Alan Brown, Member of Parliament (SNP)
Richard Burden, Member of Parliament (Labour)
Rt Hon Alistair Carmichael, Member of Parliament (Liberal Democrat)
Joanna Cherry QC, Member of Parliament (SNP)
Julie Elliott, Member of Parliament (Labour)
Lilian Greenwood, Member of Parliament (Labour)
Louise Haigh, Member of Parliament (Labour)
Rt Hon David Jones, Member of Parliament (Conservative)
Stephen Kinnock, Member of Parliament (Labour)
Tim Loughton, Member of Parliament (Conservative)
Matthew Pennycook, Member of Parliament (Labour)
Jess Phillips, Member of Parliament (Labour)
Tommy Sheppard, Member of Parliament (SNP)
Paula Sherriff, Member of Parliament (Labour)
Andy Slaughter, Member of Parliament (Labour)
Lord John Alderdice, House of Lords (Liberal Democrat)
Rt Hon Baroness Tessa Blackstone, House of Lords (Labour)
Rt Hon Lord Peter Hain, House of Lords (Labour)
Baroness Shaista Sheehan, House of Lords (Liberal Democrat)
Rt Hon Lord David Steel of Aikwood, House of Lords (Liberal Democrat)
Rt Hon Lord Norman Warner, House of Lords (Crossbench)
Rt Hon Baroness Sayeeda Warsi, House of Lords (Conservative)
Lord Stewart Wood of Anfield, House of Lords (Labour)