On 23 March, Dr Abigael Baldoumas, Oxfam's Regional Research and Policy Coordinator for the Middle East, and Amal Kaoua, Senior Conflict and Humanitarian Adviser at Save the Children delivered a briefing on the challenges for Syrian refugees in Jordan and the work of UK NGOs to the All Party Parliamentary Jordan Group and Caabu in the House of Commons. Amal and Abigael discussed many of the issues faced by Syrian refugees and what UK NGOs must focus on to solve these issues, highlighting the need to move beyond a purely humanitarian response.
The event was chaired by Chairman of the Group and Caabu board member Crispin Blunt MP. 
The number of Syrian refugees in the region has now surpassed 3.8 million. In Jordan, over 626,000 Syrian refugees are registered with UNHCR,but the number of Syrians in Jordan is believed to be around 1.4 million.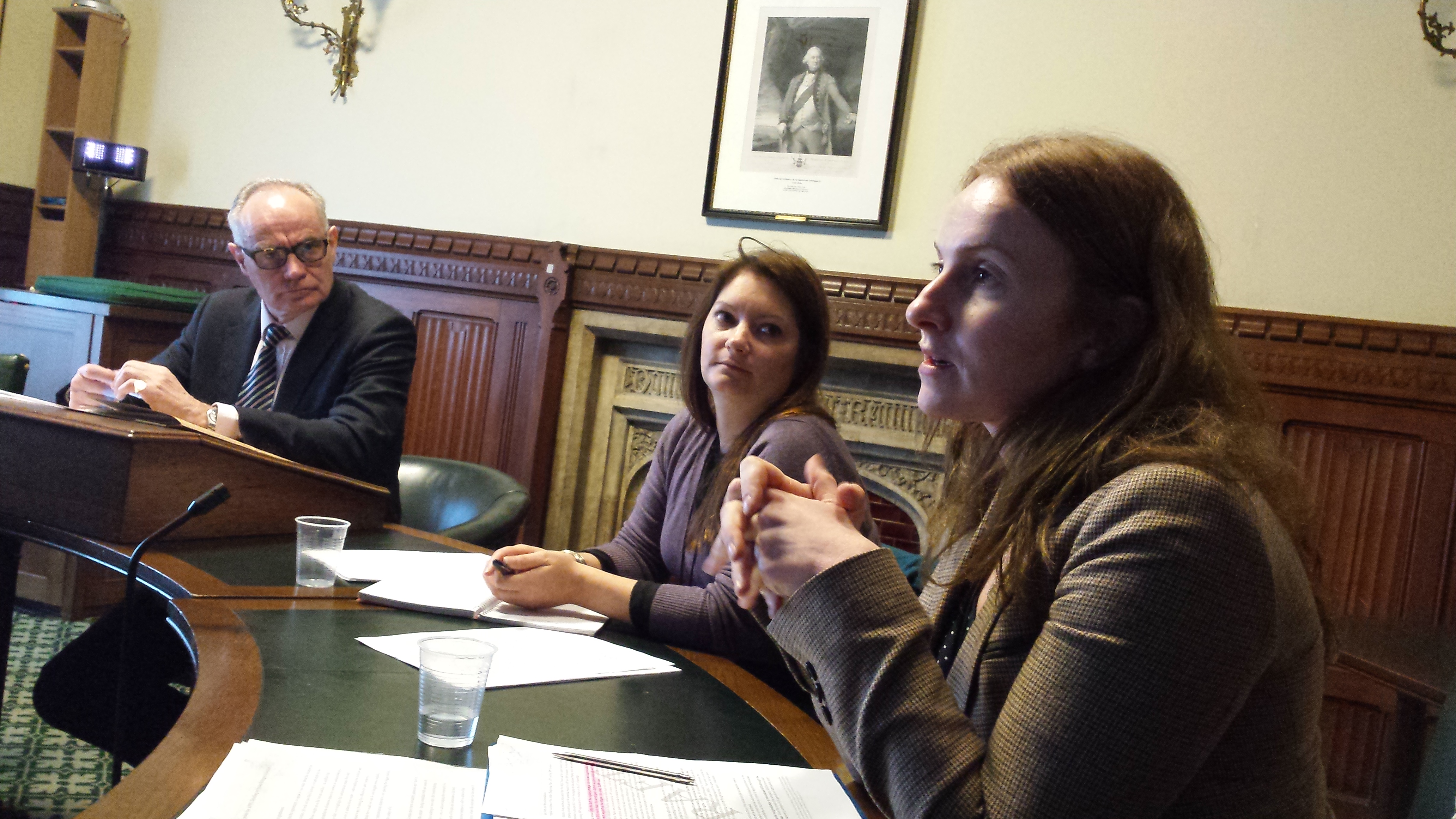 Abigael began by reflecting on her experience in Jordan. She said the number of refugees from 'the Syrian crisis is hard to fathom'. She spoke about the 'hidden nature' of the Syrian crisis due to the 'camp nature' of Jordan, and how this meant refugees were far less visible than in neighbouring Lebanon. Abigael, while recognising the very real security concerns of the Government of Jordan, emphasised the importance of the Jordanian government keeping the border open for Syrian refugees. 
Central to Abigael's briefing was that refugees need attention in different ways.  It is not just a humanitarian response needed.  She highlighted that it is now the time to look for 'something better than just coping' - refugees need to live not just cope. Abigael spoke of 'resilience', explaining this to mean refugees must have the ability to be in charge of their life and have a livelihood. She stressed that whenever she meets Syrian refugees in Jordan she hears 'how much they want to work', yet there is not the system in place to give them work opportunities which would provide both resilience and self sufficiency.   
Abigael gave the example of a small Oxfam initiative in Zaatari camp which is tackling the issue of 'resilience'. Oxfam set up a project where woman were brought together to make handicrafts and given the material to do so. She highlighted how this small project 'gave the woman involved a place to go, and very importantly made them feel valued and productive' as they had a livelihood. Abigael emphasised that on the issues of health and education in particular, the Jordanian government have to be supported. She stated 'there should not be a parallel state of aid agencies', and that aid for health and education provision for the host community and refugee population should not be separate. 
Abigael quoted an ILO report stating that the Government of Jordan estimates there are 160,000 Syrians working without permits in Jordan, and by working 'informally' they could be lowering the Jordanian national wage. Both Abigael and Amal affirmed that the refugee crisis is in fact an opportunity for Jordan to 'restructure their labour market', a problem which pre-dates the Syrian crisis. Abigael identified 'sector gaps in the Jordanian economy which can be filled by Syrian refugees' especially as many of these refugees have come to Jordan with the required skills. Strengthening local economics needs to be done in ways that will benefit all vulnerable groups and create jobs for Syrians and Jordanians who are struggling to make ends meet. She concluded by saying 'that the Jordanian government should embrace the skills of the Syrian refugees', as doing so will boost the whole Jordanian economy. 
Amal echoed points made by Abigael about what the issues facing Syrian refugees in Jordan are. She also emphasised that the political and humanitarian are linked and cannot be separated. Particularly in the case of Syrian refugees this should not be forgotten. Amal stated 'it is important to recognise and acknowledge the hospitality the people of Jordan have given to Syrian refugees', however she warned that the hospitality was being tested as tensions increase, and cautioned; 'the welcome risks turning into resentment'.
Amal gave an overview of the current situation in Jordan. She stated the Syrian crisis has caused at least a 10% increase in the population of Jordan, and as host communities have absorbed 85% of refugees huge pressure has been placed on local communities. In particular these issues place stress on; water, 'Jordan is rated the country 2nd most at risk of water need in the world', and schools, 'more schools are needed'.
 Further to this, Amal emphasised the amount of Syrian refugees who are unable to work legally. This has led some families in the camps to push their daughters towards early marriage. Amal said an inevitability of the desperate situation meant that Save the Children were offering classes to prepare children for early marriage. As there is no present likelihood of an imminent safe return for Syrian refugees the issue of employment is a vital one, as the long-term needs of the refugees must be addressed. Amal said the notion it is safe to return to Syria needs to be dispelled. Isis control and gains over neighbouring territory in particular is making people realise that Syrian refugees are likely to stay.
Amal then briefly spoke of Save the Children work in Jordan. She detailed the child protection work Save the Children is carrying out, and focused on the need to look after child refugees during Jordan's tough winters. She advocated for greater focus on education for child refugees, as this is central to 'creating a hopeful future for Syrians.' Amal discussed Save the Children's  Cost of War report, which illustrates the economic and social deprivation a whole generation of Syrian children could face if no action is taken to boost education for Syrian refugees in Jordan.
Amal finished by stating the need for 'a long term sustainable response' to the refugee crisis in Jordan, saying 'resilience' can be achieved for refugees in Jordan by providing a strong economy, where people are employed and live above the poverty line. To implement this she suggested there must be greater focus on development funding – not just short-term crisis funding. Amal concluded by saying 'now is the time to move on from just supporting refugees, to developing a whole generation'.