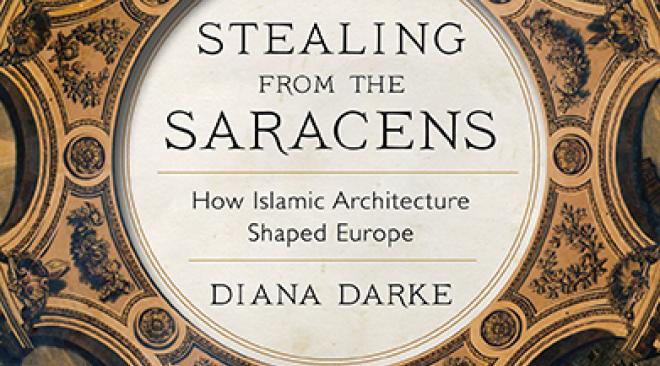 20 Aug 2020 14:00 - 15:00
Caabu invites you to an online book launch with author, Diana Darke, who will speak about her book, Stealing from the Saracens: How Islamic Architecture Shaped Europe. 
You can sign up for the discussion here using your email address. Once you have signed up, details will then be emailed to you. 
Please register below AHEAD of time to join this online briefing. This makes it much more helpful to us: https://zoom.us/meeting/register/tJwqc-ytrDstE90UYjfL_hb06ITPBiLlLKHl 
When: Thursday 20 August 2020, 14:00 UK time (BST) 
Where: Online. Sign up for the discussion here.
From mid-August the book will be available to purchase with a 30% discount from Hurst Publishers' website if you use the code HURST30.
PLEASE DONATE TO SUPPORT CAABU'S VITAL WORK: We would be also be very grateful for any donations to help us in our work right now and keep our programme including the webinars going forward. Donate here. Become a member for £50 a year here.
You can watch previous online Caabu briefings on our Youtube channel which you can also subscribe to. 
Keep up to date with Caabu's work by liking our Facebook page and following us on Twitter.
Also if you would be interested in signing up as a member to support our work, you can do so here. You can also sign up as a Caabu member over the phone. Please do also watch our video, about 50 years of our vital work. 
About the book:

Against a backdrop of Islamophobia, Europeans are increasingly airbrushing from history their cultural debt to the Muslim world. But this legacy lives on in some of Europe's most recognisable buildings, from Notre-Dame Cathedral to the Houses of Parliament.

This beautifully illustrated book reveals the Arab and Islamic roots of Europe's architectural heritage. Diana Darke traces ideas and styles from vibrant Middle Eastern centres like Damascus, Baghdad and Cairo, via Muslim Spain, Venice and Sicily into Europe. She describes how medieval crusaders, pilgrims and merchants encountered Arab Muslim culture on their way to the Holy Land; and explores more recent artistic interaction between Ottoman and Western cultures, including Sir Christopher Wren's inspirations in the 'Saracen' style of Gothic architecture.
Recovering this long yet overlooked history of architectural 'borrowing', Stealing from the Saracens is a rich tale of cultural exchange, shedding new light on Europe's greatest landmarks.
More information about the book, published by Hurst Publishers, can be found here.
In the US, the book is published by Oxford University Press, and more details can be found here.
About the author:

Diana Darke is an Arabist and cultural expert who has lived and worked in the Middle East for over thirty years. She is the author of The Merchant of Syria: A History of Survival and My House in Damascus: An Inside View of the Syrian Crisis. 
She tweets as @dianadarke.
Keep up to date with Caabu's work by liking our Facebook page and following us on Twitter.