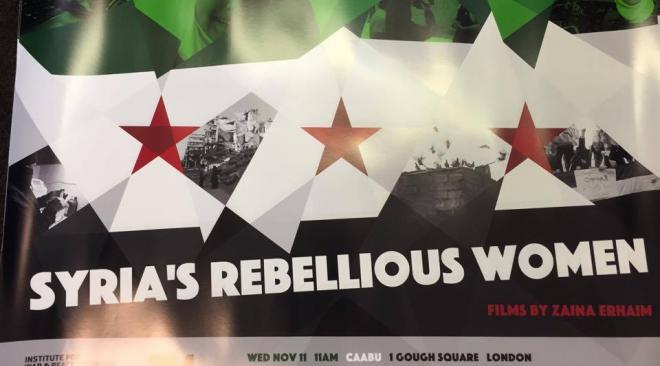 11 Nov 2015 11:00 - 13:00
Boardroom, Arab British Centre,
1 Gough Square, London
Chancery Lane, Temple, Blackfriars, Farringdon
Caabu would like invite you for a the screening of five short documentaries, produced by Zaina Erhaim for the Institute of War and Peace Reporting (IWPR), and a discussion with the Syrian women featured in these shorts. A trailer is at the bottom of this page.
This event is not exclusively for Caabu members, so everyone is welcome, but if you would like to become a member or make a donation to support our vital work, you can do so here, or on the day.
The women will not only cover the terrible stories of war and horror in Syria, but will give an insight into the courage, joy, hard working and extra battles rebellious women have to fight to get their rights as women and as humans.
Female activists who remain in rebel-held parts of Syria face numerous complex challenges. As well as facing the constant danger of bombing by the Assad government's air force, these women have to battle the conservative traditions of a male-dominated society, aggravated by a militarised environment from which many civilians have fled.
Facing restrictions on their movements, dress and behaviour, and often disapproval from their families, they nonetheless continue to work both to document the war and to help people who suffer injury, displacement and poverty.
When: Wednesday, 11 November, 11am - 1pm
Where: Boardroom, Arab British Centre, 1 Gough Square, EC4A 3DE 
As places are limited, RSVP is essential. Please confirm your attendance with Joseph Willits (willitsj@caabu.org).
Keep up to date with Caabu's work by liking our Facebook page and following us on Twitter.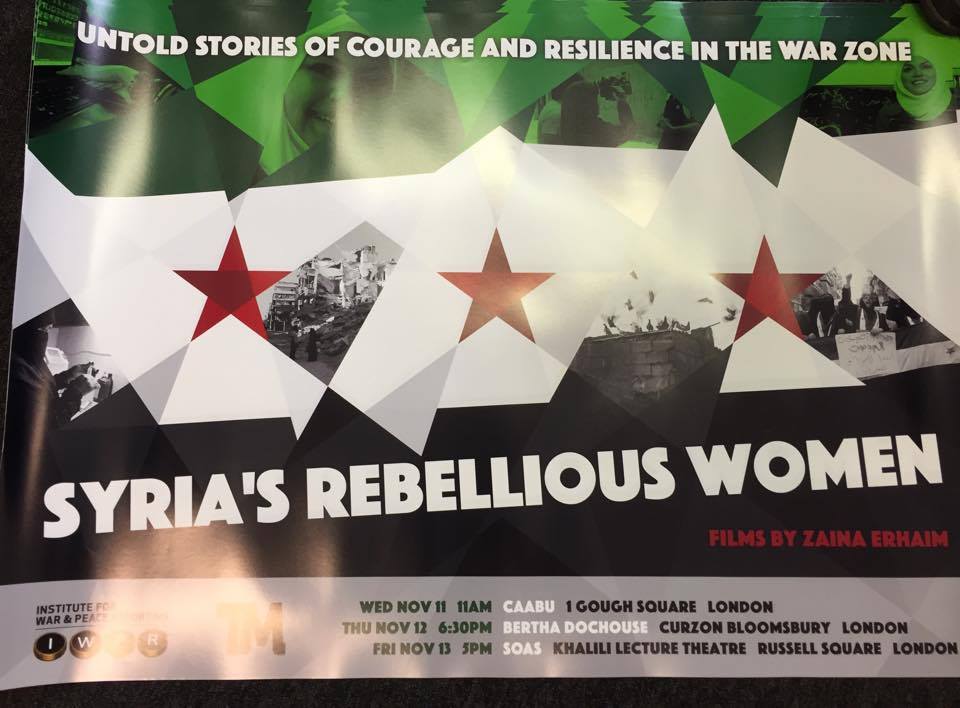 About the screenings:
In a series of short documentaries made over 18 months in northern Syria, filmmaker Zaina Erhaim introduces five women from different backgrounds but with the common goal of helping their fellow-citizens. Waed and Manar both left their families in government-controlled areas to move to rebel-held areas of Aleppo, working as paramedics in field hospitals and on the front lines.
When civilians started returning to Aleppo, Manar went back to her former job as a midwife, while Waed pursued her work as the only female citizen journalist in northern Syria.
Zein was released from 14 months in a government prison to find her home completely destroyed and her family displaced. She too became a paramedic, working in the Dar Shifaa field hospital alongside her friend Ahed.
Known as "the troublemaker" by her friends, Ahed was at the vanguard of demonstrations in Aleppo, against both Assad's government and Islamic State. Despite beatings and humiliation meted out by both forces, she continues to do relief work.
Community activist Ghalia has faced repeated attack in her home town in Idlib province. Undeterred, she has founded a series of centres that provide vocational training to local women, and remains committed to trying to improve their lives.
Zaina Erhaim is Syria project coordinator and trainer with the Institute of War & Peace Reporting (IWPR). These films were made with support from the US Department of State's Bureau of Democracy, Human Rights and Labour.
About Zaina Erhaim:
Zaina Erhaim is a Syrian journalist educated in Damascus University in Syria and got MA in international media from City University in London. She now works as the Syria project coordinator and trainer with the Institute for War and Peace Reporting.
She lives in the opposition held areas in northern Syria and was selected by Reporters Without Borders as one of a very select number of female journalists to mark International Women's Day. She has lived most of her life in Syria, and has been working as a journalist for 9 years with different outlets in Damascus, London and Turkey, such as Alhayat newspaper and BBC which she left to go back to Syria.
Zaina spoke at Caabu about surviving in northern Syria in June 2015. She also had an interview about returning to Aleppo in the Times in September 2015.
In August 2015 she was awarded the Peter Mackler Award for Courageous and Ethical Journalism.
She has a blog: http://zaina-erhaim.com/ and Tweets at @ZainaErhaim.
If you would like to attend, please RSVP to Joseph Willits (willitsj@caabu.org).