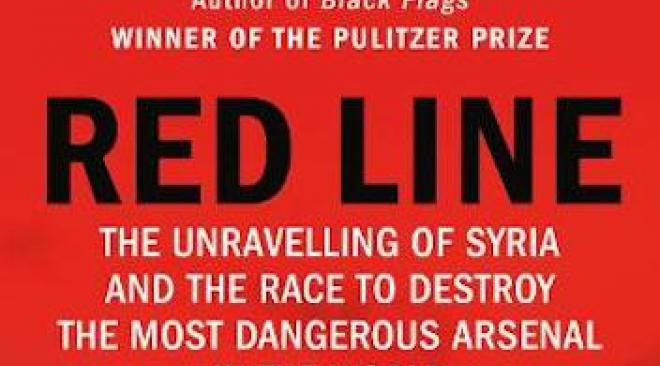 20 Apr 2021 14:00 - 15:00
Caabu invites you to an online briefing on Tuesday 20 April at 2pm (UK time) with Pulitzer Prize winning Washington Post journalist and author, Joby Warrick who will be speaking about his book: Red Line: The Unravelling of Syria and the Race to Destroy the Most Dangerous Arsenal in the World. Sign up here.
Red Line can be purchased here. Caabu has created an affiliate page on Bookshop. This means, that with any purchase through this site, 10% of the sale price will be sent to us and another 10% will go to support local bookshops. We think this is a great way to support Caabu's work and independent bookshops across the country.
Buy other books from previous online Caabu briefings here and from physical events we've hosted here.
We hope you enjoy reading any of these titles, and supporting Caabu in the process.
More details about Red Line and Joby Warrick are available below. 
You can sign up for the discussion here using your email address. Please note that sign up is a two part process. Once you have signed up with your email address, this will then be approved, and details will then be emailed to you ahead of the event. Please do check your inbox (including Junk and Clutter folders) for this email with the link to join the event on the day. 
Please register below AHEAD of time to join this online briefing. This makes it much more helpful to us: https://zoom.us/meeting/register/tJEuf-GspjwuGdxND_y8brFO6yFyjGOWQla2
When: Tuesday 20 April 2021, 14:00 UK time
Where: Online. Sign up for the discussion here.
Chair: Ian Black, author of  Enemies and Neighbours: Arabs and Jews in Palestine and Israel, 1917-2017 
PLEASE DONATE TO SUPPORT CAABU'S VITAL WORK: We would be also be very grateful for any donations to help us in our work right now and keep our programme including the webinars going forward. Donate here. Become a member for £50 a year here.
You can watch previous online Caabu briefings on our Youtube channel which you can also subscribe to. 
Keep up to date with Caabu's work by liking our Facebook page and following us on Twitter. Please do also watch our video, about 50 years of our vital work. 
About the book
From the Pulitzer Prize-winning author of Black Flags, the thrilling unknown story of America's mission in Syria: to find and destroy Syria's chemical weapons and keep them out of the hands of the Islamic State.
In August 2012, Syrian president Bashar al-Assad was clinging to power in a vicious civil war. When secret intelligence revealed that the dictator might resort to using chemical weapons, President Obama warned that doing so would cross "a red line." Assad did it anyway, bombing the Damascus suburb of Ghouta with sarin gas, killing hundreds of civilians and forcing Obama to decide if he would mire America in another unpopular Middle Eastern war. When Russia offered to broker the removal of Syria's chemical weapons, Obama leapt at the out. 
So begins an electrifying race to find, remove, and destroy 1,300 tons of chemical weapons in the midst of a raging civil war. The extraordinary little-known effort is a triumph for the Americans, but soon Russia's long game becomes clear: it will do anything to preserve Assad's rule. As America's ability to control events in Syria shrinks, the White House learns that ISIS, building its caliphate in Syria's war-tossed territory, is seeking chemical weapons for itself, with an eye to attacking the West.
Red Line is a classic Joby Warrick true-life thriller: a character-driven narrative with a cast of heroes and villains, including weapons hunters, politicians, doctors, diplomats, and spies. Drawing on astonishing original reporting, Warrick reveals how the United States embarked on a bold adventure to prevent one catastrophe but could not avoid a tragic chain of events that empowered America's enemies.
Purchase the book here.
About the speaker
Joby Warrick is National security reporter covering terrorism, rogue states, weapons proliferation at the Washington Post.
Joby Warrick joined The Washington Post's National staff in 1996. He has covered national security, the environment and the Middle East and writes about terrorism. He is the author of two books, including 2015's "Black Flags: The Rise of ISIS," which was awarded a 2016 Pulitzer Prize for nonfiction. His first book, "The Triple Agent," recounts the 2009 suicide attack by an al-Qaeda informant on a CIA base at Khost, Afghanistan, that killed seven U.S. intelligence operatives.
Before joining The Post, Warrick covered the fall of communism in Eastern Europe as a UPI correspondent and worked as a reporter at the Delaware County (Pa.) Daily Times, the Philadelphia Inquirer and the News & Observer of Raleigh, N.C. While in Raleigh, he co-authored "Boss Hog," a series of investigative stories that documented the political and environmental fallout caused by factory farming in the Southeast. The series won the 1996 Pulitzer Prize Gold Medal for public service.
Honors & Awards:
Pulitzer Prize for general nonfiction, 2016
Pulitzer Prize Gold Medal for public service, 1996
White House Correspondents Association Edgar A. Poe award, 1996
Overseas Press Club of America Bob Considine Award for best newspaper interpretation of international affairs, 2003
Books by Joby Warrick:
He Tweets @JobyWarrick.
About the Chair:
Ian Black is a former Middle East editor, diplomatic editor and European editor for the Guardian newspaper. In recent years he has reported and commented extensively on the Arab uprisings and their aftermath in Syria, Libya and Egypt, along with frequent visits to Iran, the Gulf and across the MENA region. His latest book, a new history of the Palestine–Israel conflict, was published in 2017 to mark the centenary of the Balfour Declaration and the 50th anniversary of the 1967 war. He has an MA in history and social and political science from the University of Cambridge and a PhD in government from LSE.
Ian has written for the Economist, the Washington Post and many other publications, and is a regular commentator on TV and radio on Middle Eastern and international affairs. He wrote the introduction to The Arab Spring: Revolution, Rebellion and a New World Order (Guardian Books, 2012); Israel's Secret Wars (Grove Press, 1991), Zionism and the Arabs, 1936–1939 (Taylor & Francis, 1986, 2015); and contributed to the Encyclopedia of the Modern Middle East and North Africa (Macmillan Library Reference, 2004). His most recent book is Enemies and Neighbours: Arabs and Jews in Palestine and Israel, 1917-2017 (Allen Lane, 2017).
He Tweets @ian_black.
Caabu is a not-for-profit cross-party organisation whose mission is to work for a British Middle East policy that promotes conflict resolution, human rights and civil society in the Arab world through informed debate and mutual understanding. Caabu is one of the most active NGOs working on the Middle East in British parliament since its establishment in 1967. From then on Caabu has assumed an active advocacy, educational and media role.
Keep up to date with Caabu's work by liking our Facebook page and following us on Twitter. Please sign up as a Caabu member or make a donation to support our work.