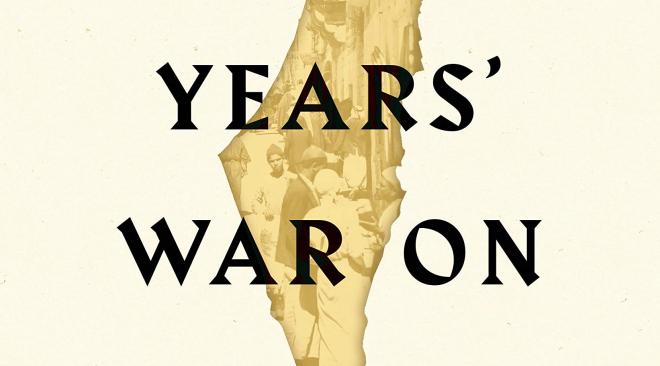 Caabu invites you to an online briefing with academic Rashid Khalidi, who will speak about his most recent book: The Hundred Years' War on Palestine: A History of Settler Colonialism and Resistance, 1917-2017.
You can sign up for the discussion here using your email address. Once you have signed up, details will then be emailed to you. 
Please register below AHEAD of time to join this online briefing. This makes it much more helpful to us: https://zoom.us/meeting/register/tJEud-ihrjsrGdC-Mbg-CETlHi25slFOPiGz 
When: Tuesday 9 June 2020, 16:00 UK time (BST) 
Where: Online. Sign up for the discussion here.
PLEASE DONATE TO SUPPORT CAABU'S VITAL WORK: We would be also be very grateful for any donations to help us in our work right now and keep our programme including the webinars going forward. Donate here. Become a member for £50 a year here.
You can watch previous online Caabu briefings on our Youtube channel which you can also subscribe to. 
Keep up to date with Caabu's work by liking our Facebook page and following us on Twitter.
Also if you would be interested in signing up as a member to support our work, you can do so here. You can also sign up as a Caabu member over the phone. Please do also watch our video, about 50 years of our vital work. 
About the speaker: 
Rashid Khalidi is the Edward Said Professor of Arab Studies in the department of History at Columbia University. He received his B.A. from Yale in 1970, and his D.Phil. from Oxford in 1974. He is co-editor of the Journal of Palestine Studies, and was President of the Middle East Studies Association, and an advisor to the Palestinian delegation to the Madrid and Washington Arab-Israeli peace negotiations from October 1991 until June 1993. He is author of: Brokers of Deceit: How the U.S. has Undermined Peace in the Middle East (2013); Sowing Crisis: American Dominance and the Cold War in the Middle East (2009); The Iron Cage: The Story of the Palestinian Struggle for Statehood (2006); Resurrecting Empire: Western Footprints and America's Perilous Path in the Middle East (2004); Palestinian Identity: The Construction of Modern National Consciousness (1996); Under Siege: PLO Decision-Making During the 1982 War (1986); British Policy Towards Syria and Palestine, 1906-1914 (1980); and co-editor of Palestine and the Gulf (1982), The Origins of Arab Nationalism (1991), and The Other Jerusalem: Rethinking the History of the Sacred City (2020).
His most recent book is The Hundred Years' War on Palestine: A History of Settler Colonialism and Resistance, 1917-2017. 
About the book:
In 1899, Yusuf Diya al-Khalidi, mayor of Jerusalem, alarmed by the Zionist call to create a Jewish national home in Palestine, wrote a letter aimed at Theodore Herzl: the country had an indigenous people who would not easily accept their own displacement. He warned of the perils ahead, ending his note, "in the name of God, let Palestine be left alone." Thus Rashid Khalidi, al-Khalidi's great-great-nephew, begins this sweeping history, the first general account of the conflict told from an explicitly Palestinian perspective.
Drawing on a wealth of untapped archival materials and the reports of generations of family members-mayors, judges, scholars, diplomats, and journalists-The Hundred Years' War on Palestine upends accepted interpretations of the conflict, which tend, at best, to describe a tragic clash between two peoples with claims to the same territory. Instead, Khalidi traces a hundred years of colonial war on the Palestinians, waged first by the Zionist movement and then Israel, but backed by Britain and the United States, the great powers of the age. He highlights the key episodes in this colonial campaign, from the 1917 Balfour Declaration to the destruction of Palestine in 1948, from Israel's 1982 invasion of Lebanon to the endless and futile peace process. 
Keep up to date with Caabu's work by liking our Facebook page and following us on Twitter.