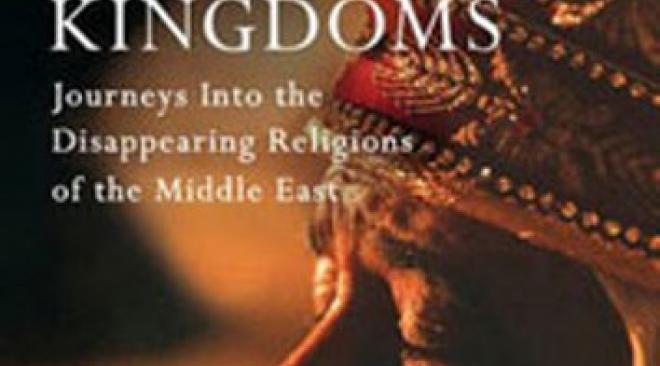 21 Oct 2015 18:30 - 20:00
Grimond Room, Portcullis House
Houses of Parliament, London
Disappearing Religions of the Middle East: 
Caabu members' event with the author of Heirs to Forgotten Kingdoms, Gerard Russell
Caabu would be delighted to invite Members for an event on the disappearing religions of the Middle East, with the author of Heirs to Forgotten Kingdoms, Gerard Russell. The book explains the history and traditions of the ten million non-Muslims of the Middle East, including Christians and Yazidis among others. At a time whe. These are under threat from ISIS, understanding them is more important than ever.
If you would like to become a member in order to attend the event, you can do so here. 
The book comes highly recommended by Bill Clinton, who described it as "fantastic". The Economist described it as a "remarkable achievement". You can read several reviews about the book here.
Please email Joseph Willits (willitsj@caabu.org) to confirm your attendance or to ask about signing up as a Caabu member.
When: Wednesday 21 October, 18:30 
Where: Grimond Room, Portcullis House, Houses of Parliament (marked 4 on this map- please allow 20 minutes to get through security).
Chair:
Paula Sherriff MP
About the book:
Despite its reputation for religious intolerance, the Middle East has long sheltered many distinctive and strange faiths: one regards the Greek prophets as incarnations of God, another reveres Lucifer in the form of a peacock, and yet another believes that their followers are reincarnated beings who have existed in various forms for thousands of years. These religions represent the last vestiges of the magnificent civilizations in ancient history: Persia, Babylon, Egypt in the time of the Pharaohs. Their followers have learned how to survive foreign attacks and the perils of assimilation. But today, with the Middle East in turmoil, they face greater challenges than ever before.
In Heirs to Forgotten Kingdoms, former diplomat Gerard Russell ventures to the distant, nearly impassable regions where these mysterious religions still cling to survival. He lives alongside the Mandaeans and Ezidis of Iraq, the Zoroastrians of Iran, the Copts of Egypt, and others. He learns their histories, participates in their rituals, and comes to understand the threats to their communities. As more and more of their youth flee to the West in search of safety and prosperity, these religions face the dire possibility of extinction.
Drawing on his extensive travels and archival research, Russell provides an essential record of the past, present, and perilous future of these remarkable religions.
About the author:
Gerard Russell worked for 14 years as a British and United Nations diplomat, and has lived in Cairo, Jerusalem, Baghdad, Kabul, and Jeddah. He also pioneered work by the British government to address Middle Eastern audiences in Arabic, in 2001 to 2003. He was awarded an MBE (Member of the Most Excellent Order of the British Empire) for this work in 2002. He speaks Arabic and Dari. He is a graduate of Oxford University, has an M.A. in philosophy from London University, and was a Research Fellow at the Carr Center for Human Rights at the Harvard Kennedy School from 2010 to 2011. He is a Senior Fellow with the New America Foundation's International Security Program as well as a Senior Associate of the Foreign Policy Centre in London.
Heirs to Forgotten Kingdoms is his first book, and took him four and a half years to write, including journeys to eight different countries.
He Tweets at @GSJRussell.
If you would like to attend this meeting please RSVP to Joseph Willits (willitsj@caabu.org).
You can keep up to date with Caabu's work by following us on Twitter or by 'Liking' our Facebook page.