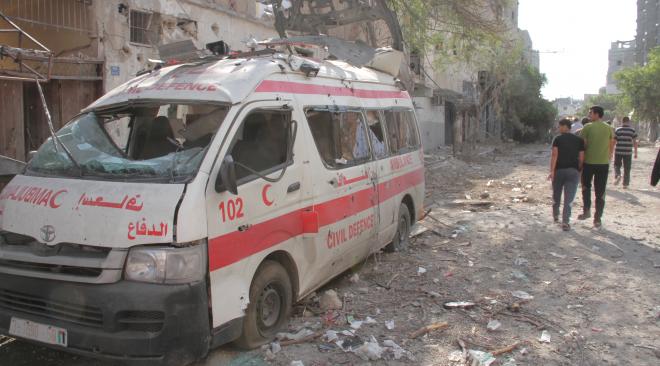 22 Nov 2016 00:00 - {00}:{00}
Committee Room 19,
Houses of Parliament, London
Caabu would like to invite you to a film screening of Ambulance, a film about ambulance services in Gaza during Operation Protective Edge in 2014. You can watch a trailer for the film here.
This event is not just for Caabu members, so anyone is able to attend the screening however if you would like to support Caabu's work, you can sign up as a member here. 
The film, supported by the Norwegian Film Institute, had its world premiere at the Sheffield Film Festival in June.
'A raw, first-person account of the last war in Gaza in the summer of 2014. From the very first day of the Israel-Gaza conflict in 2014, filmmaker Mohamed Jabaly was there with his camera. He follows a team of paramedics in an ambulance, eventually becoming a core member who bears witness to their perilous and heartbreaking rescue work. "Ambulance" tracks the harrowing chaos amidst a state-run military operation affecting civilians.'
Read more on Al Jazeera here.
When: Tuesday 22 November, 17:30.
Where: Committee Room 19, House of Commons, Houses of Parliament
Click here for directions. Cromwell Green entrance is marked 8 on the map. Please leave 20 minutes to get through security.
As places are limited, RSVP is essential. Please confirm your attendance with Joseph Willits (willitsj@caabu.org). 
You can read reviews of Ambulance in Culture Whisper, Screen Daily and in other publications here.
Keep up to date with Caabu's work by liking our Facebook page and following us on Twitter.
Please do forward this event to others who would be interested. Ways of signing up to support our work, can be found here.