Delegation witnesses settler intimidation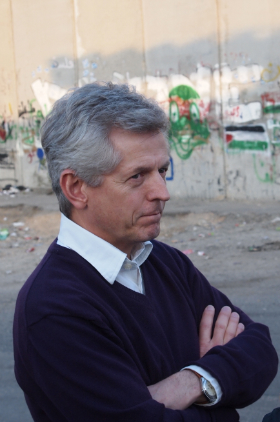 Caabu delegation witnesses settler intimidation of Palestinian farmers
Wednesday 26 January 2011
A parliamentary delegation from the Britain-Palestine All Party Group witnessed the intimidation of West Bank farmers by a group of Israeli settlers, on Saturday.
The delegation, organised by Caabu, was visiting the Hebron governorate village of al-Atwani to examine the impact of settlement building. They saw at first hand the daily experiences of Palestinians across the Occupied Territories, witnessing the village's farmers harassed by settlers from the nearby outpost of Havat Maon in an attempt to prevent them from tending to their lands.
The delegation included former Minister for the Middle East Rt Hon Ben Bradshaw MP, as well as Conservative Foreign Office PPS Richard Graham MP, Labour Shadow Minister Margaret Curran MP and Liberal Democrat peer Baroness Falkner.
Caabu Parliamentary Officer Graham Bambrough said the visit to al-Atwani highlighted the daily struggle faced by Palestinians living under occupation.
"A group of approximately twenty settlers were trying to prevent the farmers from the village from ploughing their fields and providing a livelihood for their families. What we witnessed is sadly just a typical example of the everyday experiences of Palestinians across the West Bank, living under military occupation."
The delegation spent Saturday visiting al-Atwani and Hebron, a town badly impacted by Israel's settlement project. The parliamentarians visited the centre of the town where they witnessed row after row of abandoned shops, shut down under military orders to accommodate an Israeli settlement in the heart of Hebron.
The delegation spent a total of five days in the West Bank, also visiting Bethlehem, Ramallah and East Jerusalem. They held meetings with the British Consul-General and Palestinian Prime Minister, Salam Fayyad. Meetings with the Ministry of Foreign Affairs were cancelled due to a strike by Israeli diplomats.