The Co-Op and Israel: Are you a PIP or a PEP?
By Seph Brown, Caabu Events Officer
On the centre-left of US politics a turn of phrase has emerged to describe the sort of liberal who is typically pro-gay marriage, pro-abortion rights, anti-war, pro-welfare state and so on, but may take a more hawkish line in response to any criticism of Israel. These people are either 'Progressives Including Palestine' (the PIPs) or 'Progressives Except Palestine' (the PEPs).
In the UK there are few better mechanisms to describe the left's response to the news that the Cooperative Group decided at the end of last month to strengthen its position against Israel's illegal settlement programme on the West Bank.
On April 28, the Co-op announced that it will be ending contracts worth £350,000 to four of Israel's largest export companies known to operate in and profit from the occupation of the West Bank. The Group has not stocked goods sourced from West Bank settlements or the occupied Golan Heights since 2009 and have emphasised that this is not a boycott of Israel, saying:
"the Group will continue to trade with Israeli suppliers that do not source from the settlements, and currently has supply agreements with some twenty Israeli businesses, a number of which may benefit from a transfer of trade."
Most reports have named the four companies involved, but not outlined just how integrated they are with Israel's settler economy. Adafresh exports settler produce from the occupied Jordan Valley, including Eitan and Inon Herbs and herbs from Aroma Na'ama. Arava Export Growers meanwhile openly maps out on its website where its produce originates in the Jordan Valley.
Mehadrin Group and its subsidiary, MTex, has exported Medjoul dates and grapes, which are grown in the occupied Jordan Valley and originate from settlements including Beqa'ot. The Mehadrin Group also holds 50% of Miriam Shoham which owns a packing house for mangos in the occupied Golan Heights.
Agrexco, according to 2006 court testimony from their British manager, Amos Orr, is responsible for marketing 60-70% of the agricultural produce grown in Israeli settlements in the occupied territories. These settlement products account for about 5% of Agrexco's total turnover (approximately €33million on 2007 figures). The company has a regional office in the Jordan Valley and also owns packing houses situated in the settlements in the West Bank such as Tomer, Massua, Ro'I, Netiv Hagdud and Mehola.
These are four companies integrated into the settler economy, but there are dozens of others with direct links to the United Kingdom. These ties are of vital importance when analysing the prospects for peace between Israel and Palestine because it is international inability to tackle Israel's settlement programme which is a key obstacle to any negotiations.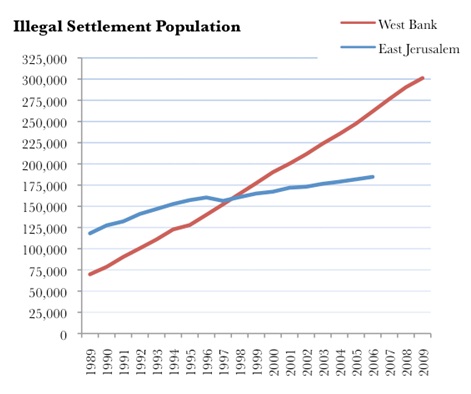 With financial and political support from the Israeli government, the settler population of the West Bank increased by 4.3% over 2011 and has devastated prospects for peace. A poll conducted by Near East Consulting in October 2010 showed that 70% of Palestinians will support negotiations if Israel ceases its settlement program. Only 27% of Palestinians support direct negotiations with Israel under any circumstance.
In the same month YouGov Siraj polling showed that an overwhelming 90% of Palestinians would not support the negotiations as settlement construction continued. And it is easy to understand why:
A 2011 report from the Applied Research Institute – Jerusalem (ARIJ) and the Palestinian Ministry of Economy detailed how the occupation of the West Bank and Gaza saps nearly 85% of GDP from the Palestinian economy (nearly $7 billion) a year. Furthermore, "over USD 4.5 billion per year, a full 56% of GDP, is the cost (in terms of both foregone revenues and higher costs of raw materials) for the Palestinians for not being able to access their own resources."
The cost of the settlement enterprise, and the occupation built around it, is astronomical, but increasing settler violence is another vital reason to begin to put pressure on its economic underpinning.
According to mapping by the UN, the weekly average of settler attacks resulting in Palestinian casualties and property damage increased by 32% in 2011 compared to 2010, and by over 144% compared to 2009. Research from Israeli NGO Yesh Din shows that over 90% of monitored complaints regarding settler violence filed by Palestinians with the Israeli police in recent years have never led to prosecution.
However, even looking at the facts on the ground, the Co-op's most recent policy expansion has caused a debate amongst the progressive political community, many who believe it to be a step too far.
The Labour Friends of Israel and Progress have both promoted an article by Eric Lee, which accuses the Cooperative Group of "demonising Israel" and suggests that any move away from economic ties with Israeli companies who directly support the settlement enterprise is a "slippery slope" towards a complete boycott of Israel.
Neither organisation has offered any rationale behind that claim. Lee's only argument against the move appears to be that the Palestine Solidarity Campaign and the Guardian have welcomed it. Lee even admits that:
"For those of us who support a two-state solution for Israel and Palestine and who oppose the building of settlements in the occupied West Bank, it is easy to dismiss this as irrelevant. After all, it's not like the Co-op voted to ban all Israeli products. In fact the Co-op went out of their way to say precisely that. They're not boycotting Israel. They're just boycotting companies that profit from the occupation."
That is where a truly progressive article should have ended. The reality is that the United States, European Union and the Quartet have so far failed to prevent the on-going, and accelerating, expansion of Israel's illegal settlement programme. Meanwhile, the Cooperative Group have taken a measured, sensible and practical step towards ending the economic stranglehold the occupation imposes on the West Bank by refusing to be complicit in it.
If we support a two-state solution, as both Progress and LFI claim to, then it is incumbent upon us to speak out against settlement construction and support activity aimed towards the creation of a viable Palestinian State. Now we must ask why other retailers maintain their unethical economic relationship with Israel's settlement programme and pressure them to follow the Co-op's example.
We can only hope that the PEPs come to their senses and join the PIPs in working together towards a genuine and achievable two-state solution.