Award-Winning Syrian Pianist in Concert
Date: Saturday, 12 Nov 2011 7:00pm
Leighton House Museum
12 Holland Park Road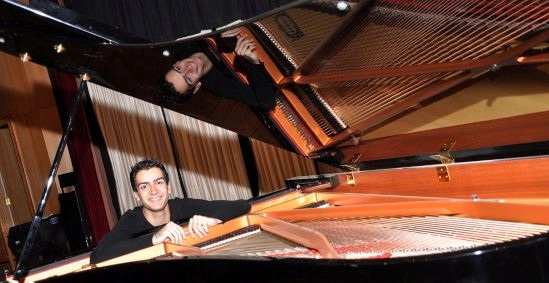 The award-winning Syrian pianist Riyad Nicolas performs a repetoire by contemporary Arab and Western composers in this special evening concert in the exquisite surroundings of Leighton House Museum.
Riyad Nicolas who was born in Aleppo, Syria in1989 will perform pieces by renowned Arab composers including Jabri, Al Succari, Al Wadi and Al Hajjar. His repetoire will also include Western composers who works have been inspired by the Arab world such as Schumann and Albéniz.
He began playing the piano at the tender age of six and went on to study music at the Arab Institute of Music in Aleppo before moving to London. Since 2005 he has been studying at the Purcell School of Music and the Royal Academy of Music in London with Professor Sulamita Aronovsky. He graduated in 2011. Riyad has won numerous international prizes including the Educational Award at the London International Piano Competition in 2005, the Francaix International Piano Competition (Paris, 2008) and a major prize in Ciutat de Carlet International Piano Competition (Spain, 2009). Riyad has also given performances with renowned orchestras including The Young Musicians Symphony Orchestra in London, the Emirates Youth Symphony Orchestra and the Syrian Philharmonic Orchestra.
Riyad Nicolas is one of the most exciting young musicians to emerge from the Middle East in recent years.
When:
Saturday 12 November 2011 | 19:30-21:30 (doors open at 19:00)
Where:
Leighton House Museum, 12 Holland Park Road, London W14 8LZ
Tickets: £10/£8 conc | Book tickets or call 020 7471 9153 |More Info